A RELATIONSHIP OF STRESS LEVELS IN ELDERY WITH HYPERTENSION AT PUSKESMAS SINDANG BARANG
HUBUNGAN TINGKAT STRES DENGAN KEJADIAN HIPERTENSI PADA LANSIA DI PUSKESMAS SINDANG BARANG
Keywords:
Stress Level, Hypertension, Elderly
Abstract
Hypertension is a condition in which a person experiences an increase in blood pressure above normal in the show by a number systolik (top) and the bottom number (diastolic) blood pressure checks on the blood pressure cuff either mercury or other digital devices. This study was conducted to determine A Relationship of Stress Leves in elderly with hypertension at puskesmas Sindang Barang. This research is quantitative research and the design of this research is Analytical Study. In this study the researcher, using cross sectional approach. In this research, Statistical test results also showed that the P Value 1,000> 0.05, so the hypothesis taken by researchers rejected. So it can be concluded that there is no relationship between the levels of stress and the incidence of elderly hypertension at Puskesmas Sindang Barang. The reason why there is no significant of stress levels and the elderly hypertension at Puskesmas Sindang Barang because stress is not the only cause of hypertension. Here are many factors that can be causes a person's blood pressure, there are: lack of exercise, smoking, alcohol, caffeine, salt. The results of this study are expected to be useful as information and can enter and leave as a reference in particular complement the library where they can be useful for students. The researcher hopes that this research can be usefull as materials for the learning process as well as additional knowledge to the students of Wijaya Husada Bogor.


References
Simanjuntak, B. M. (2019). THE RELATIONSHIP OF K3 COMMITMENT TO THE APPLICATION OF SAFETY AND HEALTH MANAGEMENT SYSTEMS IN THE UTILLITY DIVISION IN PT ALMASINDO BOGOR: HUBUNGAN KOMITMEN K3 DENGAN PENERAPAN SISTEM MANAJEMEN KESELAMATAN DAN KESEHATAN KERJA PADA DIVISI UTILLITY DI PT ALMASINDO BOGOR. Jurnal Ilmiah Wijaya, 11(2), 71-80.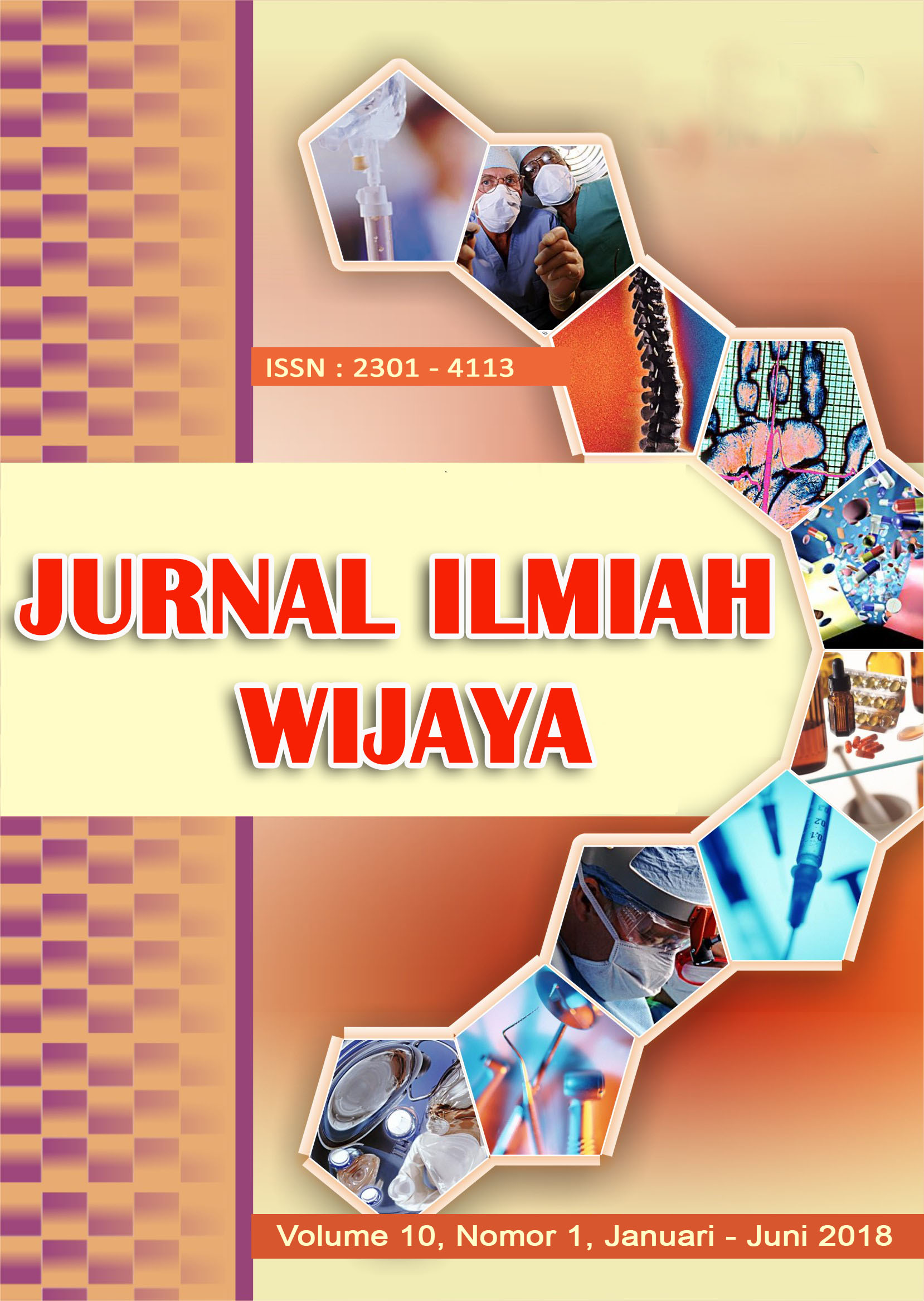 How to Cite
Purba , S. (2018). A RELATIONSHIP OF STRESS LEVELS IN ELDERY WITH HYPERTENSION AT PUSKESMAS SINDANG BARANG : HUBUNGAN TINGKAT STRES DENGAN KEJADIAN HIPERTENSI PADA LANSIA DI PUSKESMAS SINDANG BARANG. Jurnal Ilmiah Wijaya, 10(1). https://doi.org/10.46508/jiw.v10i1.1
Section
Volume 10 Number 1 : 2018